| Aug 09,2022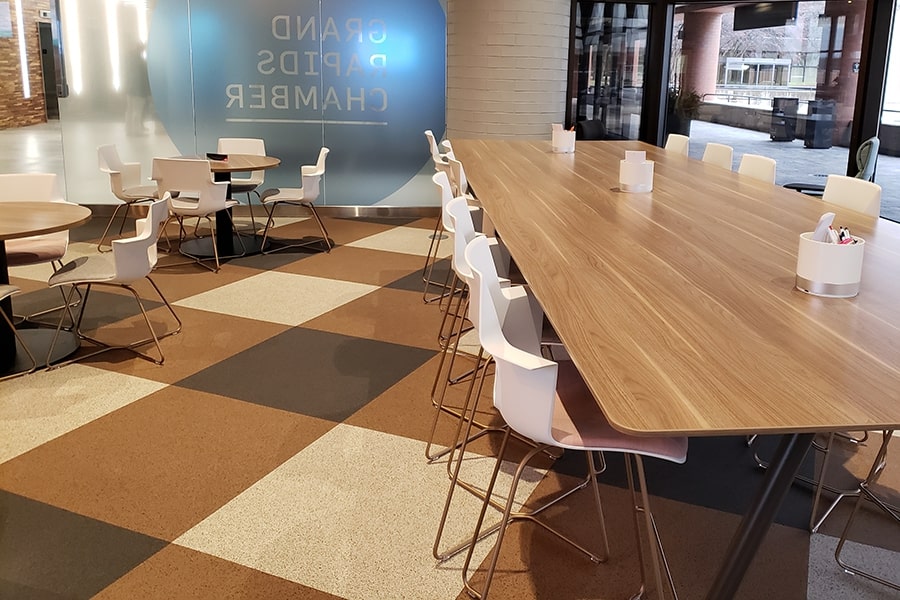 Bring nature indoors! Nature's Collection recycled rubber surfacing by Dinoflex is manufactured with sustainably harvested cork, blending sophistication and elegance into one product with impressive durability and versatility.
Infusing cork with our recycled rubber allows us to combine similar yet complementary characteristics to create a product that offers superb performance with a visual dimension not typically found in rubberized flooring.
Safe and Sustainable
We are all searching for ways to make a difference and protect our planet for future generations. When you choose Nature's Collection, you're choosing a state-of-the-art, durable, aesthetically pleasing flooring solution. It also has a positive impact on the environment, as our sustainably harvested cork granules come from non-harmful, renewable sources. Further, Nature's Collection offers high-traction properties making it a smart choice as it reduces slip and fall injuries. Nature Collection's Floor Score certification lends credence to its safety and its eligibility for valuable LEED credits punctuates its sustainability.
Durable and Easy to Maintain
Sustainability is intricately tied to durability and ease of maintenance; extending the life of your investment bolsters its sustainability by keeping it out of landfills longer. Nature's Collection proves its durability by resisting abrasions and indentations. It's also naturally resistant to mold and mildew, making it a natural choice for high-moisture environments such as lobbies. DinoCoat is required to seal and protect the cork granules while aiding to the ease of maintenance. This semi-gloss finish is specially formulated to eliminate the effects of framing and shade variation.
Aesthetically Versatile
Nature's Collection is both naturally elegant and naturally beautiful. By combining cork granules with vivid EPDM colors, we add depth to create a perfectly balanced, aesthetically versatile floor. Our 20-color palette enables you to design a uniquely different space with subtle natural tones.
Helps Create a Comfortable Environment
Nature's Collection looks good and feels good, ensuring a beautiful and comfortable environment. Its increased insulation properties help hold heat and maintain warmth in your space while its acoustic properties naturally absorb sound. Nature's Collection also offers ergonomic benefits for improved underfoot comfort for people who are on their feet for hours on end.
Nature's Collection is a natural solution for commercial spaces, hospitality, multi-use facilities, office spaces, and retail spaces. To learn more about our made-for-designers product, contact a member of our team today.