| Jun 09,2022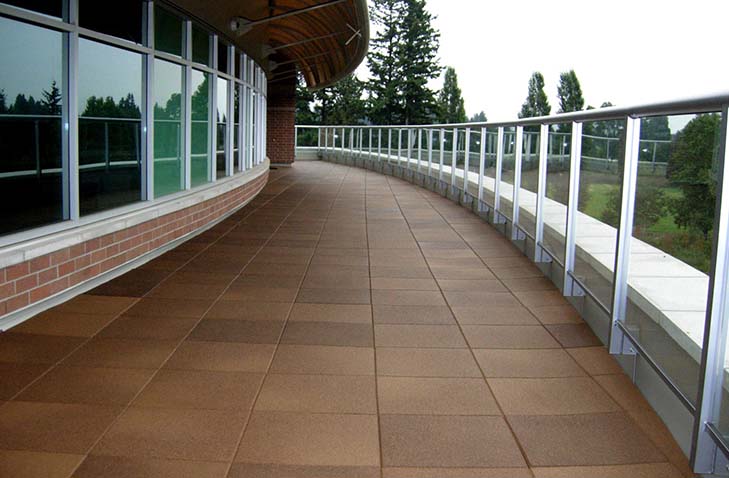 Whether you are revitalizing your outdoor space or designing a new rooftop patio for a commercial space, NuVista® Tiles are the outdoor rubber surfacing solution specifically designed to get the job done.NuVista® Tiles provide a fast and easy way to rejuvenate old concrete patios and beautify previously unusable space, such as condo rooftops. Help increase the functionality of an outdoor area with NuVista® Tiles!
Easy to Maintain and Instal
It doesn't get easier than NuVista® Tiles! This innovative surfacing solution is easy to clean and requires very little maintenance. Simply sweep or hose off and your outdoor space will always look good.NuVista® Tiles aren't only easy to clean, they're easy to install. Our no-glue interlocking application system simplifies the installation process to quickly and effectively increase the usable outdoor space.
Made to Last
Some places experience large temperature swings month to month – or even hour to hour!Dinoflex has developed NuVista® Tiles for outdoor spaces – including decks, balconies, patios, and even hot tub pads – with longevity and functionality in every climate.Our resilient NuVista® Tiles are designed to be used year-round, whatever the temperature. They have proven performance in the harshest of freeze/thaw climatic conditions and will not crack or break – even in extreme heat or cold. NuVista® Tiles also provide superior protection for rooftop membranes, helping to extend the life of your roof.
A Practical Surfacing Solution
Our NuVista® surfacing is a practical solution that provides an impact-absorbing, high-traction, and decorative landscape surface for a variety of applications. In addition to rooftops, they can be installed over concrete, asphalt, or a compacted granular base at grade. Further, the raised design of the NuVista® Tile backing provides improved water flow, and ensures only water goes through, not debris, making it great choice for high-performance green landscaping applications. NuVista® Tiles also take care of any sound or vibration issues, which is an especially important consideration for commercial rooftop applications. Their noise reducing and impact absorbing qualities allow those working below to focus and those on the rooftop to enjoy the outdoor space. NuVista® Tiles can also be used to create a high-traction surface for places where safety is paramount, such as paths to roof-mounted mechanical systems as well as assisted living facilities. Wheelchairs and walkers are no challenge for NuVista® – even when wet – proving they're a smart and safe surfacing solution.
EnvironmentallyFriendly
The choices we make today impact our world tomorrow. You can feel good about your decision to choose NuVista® Tiles. They are constructed from post-consumer and post-industrial recycled content, which contributes to LEED credits. These tiles offer long life cycle and ability to be repurposed instead of disposed, proving it's a sustainable product. It is also Health Product Declaration certified, providing crucial information on how products can impact human health and wellness.In fact, NuVista® Tiles also contribute to wellness: they provide a non-vegetative border when used with green roof systems, helping contain vegetation – including vegetables!
NuVista® Tilesare an adaptive, multi-purpose surfacing solution and will provide unmatched outdoor style and comfort for everyone who wants to get out and enjoy the fresh air – whatever time of year. Contact us today to get started on beautifying or repurposing your outdoor space!